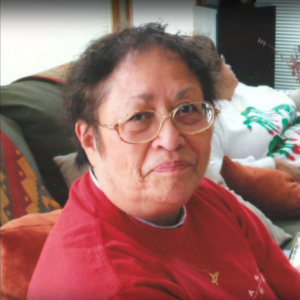 The Marian Martinez Scholarship Fund was created in honor of Marian Martinez who was a longtime advocate for the Latino community in Omaha. Prior to her passing in 2015, Marian was a committed advocate for Latino youth and their families.  In addition to leading the Jerry Garcia Chapter of the American GI Forum, she volunteered her time and resources to create opportunities for veterans, their families, and youth in the Omaha community.
In 2017, Marian's family created a scholarship to celebrate her memory and help deserving Latino youth get the resources they need to go to college and pursue their dreams. The $2,500 scholarship, supported by MENTOR Nebraska, is given annually to an Omaha high school senior who demonstrates community involvement, work and leadership experience, and a strong passion to attend college. The recipient also has a mentoring relationship with a caring adult who has helped them along the way.
To donate to the Marian Martinez Fund, please donate online or send a check to MENTOR Nebraska c/o Marian Martinez Scholarship Fund: 1111 N 13th Street #126, Omaha, NE  68102. All donations are tax deductible and will be acknowledged.
2020 Recipient: Joseline Albeno
2019 Recipient: Pablo Chavez
2018 Recipient: Arturo Gallegos-Zaragoza
2017 Recipient: Israel Cruz-Vital
2021 Marian Martinez Scholarship
Guidelines:
Applicants must be Latino.
All application materials must be submitted by 11:59 p.m. on Friday, May 28, 2021. Late and/or incomplete applications will not be considered.
Students must complete their own applications. Applicants must be enrolled in an Omaha area High School, and must be a Senior in the 2020-2021 school year. Applicants must be planning to attend a 2 year or 4 year college program to obtain a degree.
Applicants must be engaged in a mentoring relationship with a caring adult in their life. This is defined as any adult other than the applicant's legal guardian who provides friendship, guidance and support and the relationship has been in existence for at least one year. This can be in a formal program or through an informal connection in the community.
Applications must include one letter of recommendation from their mentor. This letter should describe how the applicant has benefited from this relationship, what his or her educational challenges and goals are, and why he or she is deserving of this scholarship.
Applicants must upload one photograph of you and mentor together.
Applicants must provide a copy of high school transcript showing GPA of 2.75 or above.
Applications will be evaluated according to the following criteria:
Demonstrated financial need for scholarship
Clear desire, motivation, and passion to attend college for your chosen field (indicate a post-secondary education plan if applicable)
Establishment of impactful mentoring relationship
Demonstrated community or leadership experience outside of school (employment, internships, volunteer work, community involvement, etc.)
If awarded, MENTOR Nebraska requires the following:
Yearly updates on college GPA
Signed form from parent/guardian (if applicant is under 18)
Attendance of applicant and mentor at the awards ceremony.
The $2,500 award must be used for the mentee's educational pursuits: either college tuition or books needed for college courses. The award will be disbursed in two increments of $1,250, with the first installment being awarded at the beginning of the student's first semester of higher education and the second installment coming within the next immediate semester. If the scholar's plans to attend college as outlined in the application change, they must contact MENTOR Nebraska to gain permission to use the funds towards a different program. Permission is not guaranteed. Scholars must maintain a minimum GPA of 2.75 to keep their scholarship award.
If you have any questions, please contact Robert Martinez at Robert.Martinez@douglascounty-ne.gov or 402-415-1408.