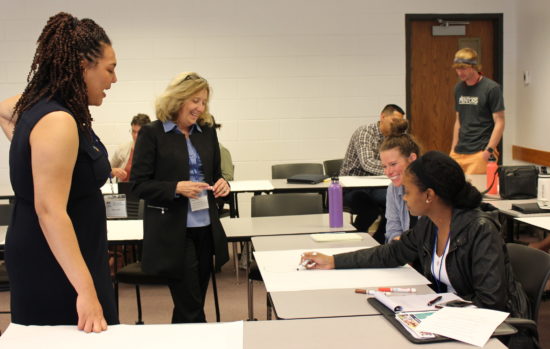 As a resource to promote best practices throughout Nebraska, MENTOR Nebraska provides several fundamental training and assessment tools at no cost to mentoring programs. These training opportunities help mentoring programs gain the support and resources they need to provide high quality mentoring experiences.
MENTOR Nebraska Trainings
Combatting White Saviorism
Thursday, March 18, 2021 | 10 a.m. – 12 p.m. CT | Webinar
Mentoring relationships and programs have the power to reproduce or reduce racial and economic inequality. They also have a moral obligation to do no harm to the youth and families being served. This session will explore what white saviorism looks like as well as the harmful impact it has on youth. Participants will develop the ability to recognize white saviorism in mentoring relationships and programs and explore concrete strategies to combat its harmful effects.
Audience: Mentors, mentoring professionals, and youth-serving professionals
Presenter: Marisa Hattab
Cultural Competency Miniseries
Thursdays in April | 3:30-4:30 p.m. CT | Webinar
Need a starting point for understanding youth today? Join us as we discuss using cultural competence to connect with youth culture. This miniseries will cover:
Cultural Intelligence – Let's Test your IQ (Thursday, April 8)
Cultural Differences - What Makes Us Different? (Thursday, April 15)
Teen Culture - Not your Teenage Years (Thursday, April 22)
Audience: Mentors, mentoring professionals, and youth-serving professionals
Presenters: Marisa Hattab and Monica Dixon
Social and Emotional Learning: Refugee Youth
Thursday, May 13, 2021 | 1-2:30 p.m. CT | Webinar
Social awareness and relationship skills are important for refugees to thrive in a new country. Use social and emotional learning (SEL) to provide a bridge to newcomers, creating an inviting and responsive environment through mentoring. By combatting a deficit mindset, mentors and youth-serving professionals will be able to build stronger connections while honoring refugee culture though SEL. Participants will walk away with activities and strategies for staff and mentors to use in their mentoring sessions.
Audience: Mentors, mentoring professionals, and youth-serving professionals
Creating Equitable Outcomes by Increasing Youth Voice
Thursday, May 27, 2021 | 1-3 p.m. CT | Webinar
Harness the power of mentoring by giving a voice to the next generation.  Join us as we discuss ideas on how to allow youth to lead the way.  This session is designed to provide strategies for elevating youth voice, by providing avenues to showcase youth resilience and creativity.
Audience: Mentors, mentoring professionals, and youth-serving professionals
Trauma 101 and Recovery
Thursday, June 3, 2021 | 10:30-12:30 p.m. CT | Webinar
Trauma-informed mentoring is an approach to help mentors and youth-serving programs recognize and acknowledge the role trauma plays in young people's lives. This training covers how trauma affects young people, what trauma-informed care is, how to create safe environments for young people, and practices to avoid re-traumatizing. Participants will also identify self-care strategies to combat "compassion fatigue" and build assets to better serve young people and their mentors.
Audience: Mentors, mentoring professionals, and youth-serving professionals
Screening Applicants for Effectiveness (SAFE)
Thursday, June 17, 2021 | 10:30-12:30 p.m. CT | Webinar

Ensuring youth are safe is a top priority in the mentoring sector. This training helps mentoring and youth-serving organizations evaluate their volunteer screening practices and offers suggestions on how programs can strengthen their screening processes to keep youth safe. Participants will learn how to identify characteristics of child predators, stages of the grooming process, and red flags to look for when screening potential and current volunteers.
Audience: Mentoring professionals and youth-serving professionals
Custom Training & Consultation
MENTOR Nebraska offers mentoring and youth-serving organizations up to 50 hours per year of no-cost training and consultation through the National Mentoring Resource Center.  Some recent examples of our work with mentoring programs include:
Social Emotional Learning training
Recruiting BIPOC Mentors training
Combatting White Saviorism training
Development and revision of mentor training materials
Analysis of mentor screening processes
Analysis of match support processes
In-depth evaluation planning
We would love to meet with you to get to know your unique mentoring program, discuss your program's needs, and figure out how we might best be able to partner with you to improve the quality of your program.