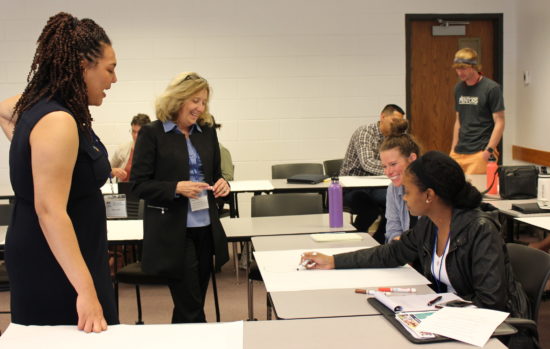 As a resource to promote best practices throughout Nebraska, MENTOR Nebraska provides several fundamental training and assessment tools at no cost to mentoring programs. These training opportunities help mentoring programs gain the support and resources they need to provide high quality mentoring experiences.
MENTOR Nebraska Trainings
Recruiting Diverse Mentor Populations
Thursday, August 26 | 10-11:30 a.m.
Audience: Mentoring professionals and youth-serving professionals
A common challenge mentoring programs face is recruiting mentors and volunteers who reflect the young people they serve. This training will challenge participants to rethink mentor recruitment and focus on building relationships with diverse communities.
Elements of Effective Practice for Mentoring
Tuesday, September 14 | 9 a.m. – 4 p.m.
Audience: New mentoring professionals, individuals considering starting a mentoring program, and youth-serving organizations interested in offering mentoring services 
Are you considering starting a mentoring program or want to strengthen your current program? This training will provide an overview of research-informed and practitioner-approved standards for creating and sustaining quality youth mentoring programs and consequently, impactful mentoring relationships. Participants will learn the best practices of mentoring for recruiting, screening, training, matching, monitoring, supporting, and closing matches based on MENTOR's Elements of Effective Practice for Mentoring. 
Cultural Competency Miniseries
Thursday, October 14, 21, 28 | 3:30-4:30 p.m.
Audience: Mentors, mentoring professionals, and youth-serving professionals
Need a starting point for understanding youth today? Join us as we discuss using cultural competence to connect with youth culture. This miniseries will cover:  
October 14: Cultural Intelligence – Let's Test your IQ - Register             

 

 

October 21: Cultural Differences- What Makes Us Different? - Register
October 28: Teen Culture- Not your Teenage Years - Register
Custom Training & Consultation
MENTOR Nebraska offers mentoring and youth-serving organizations up to 50 hours per year of no-cost training and consultation through the National Mentoring Resource Center.  Some recent examples of our work with mentoring programs include:
Social Emotional Learning training
Recruiting BIPOC Mentors training
Combatting White Saviorism training
Development and revision of mentor training materials
Analysis of mentor screening processes
Analysis of match support processes
In-depth evaluation planning
We would love to meet with you to get to know your unique mentoring program, discuss your program's needs, and figure out how we might best be able to partner with you to improve the quality of your program.