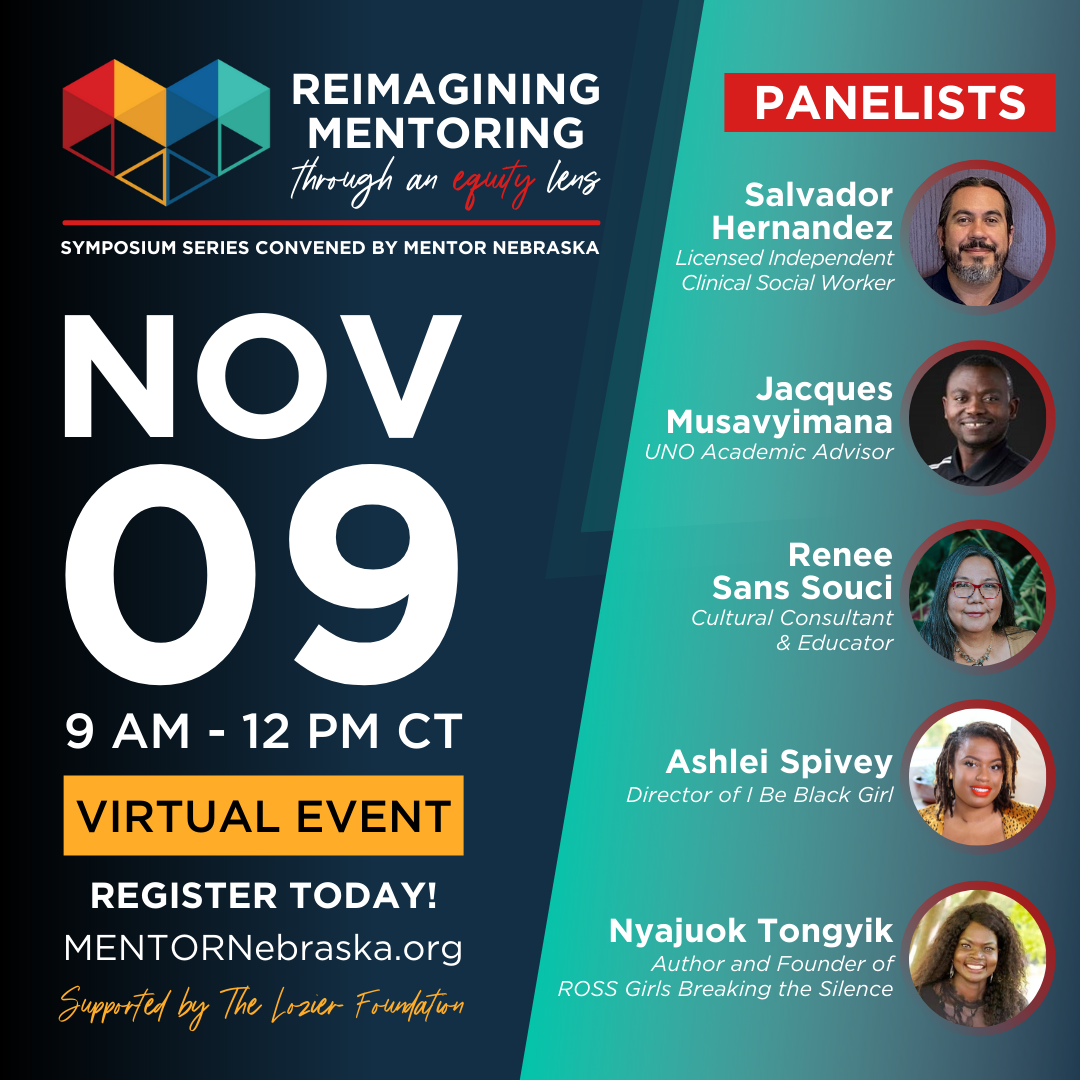 The Reimagining Mentoring symposium series examines the dynamic factors that impact the mentoring experiences of young people in our state. Our fall symposium focuses on honoring identity, culture, and lived experiences of youth and families to advance equity in mentoring. You will not want to miss this incredible slate of panelists drawing from their professional and personal experiences to illuminate ways to strengthen mentoring approaches and practices to create a roadmap for change. Facilitated group discussion, Q&A, and action planning will follow the panel.
Individual registration is required, and this fully virtual event is capped at 125 attendees.
Reimagining Mentoring Through an Equity Lens
November 9, 2021  |  9 a.m. - 12 p.m. CT
Registration Fee - $25
Registration closed Friday, November 5.
Thank you to The Lozier Foundation for supporting this event!
MEET THE PANELISTS
Salvador Hernandez
Licensed Independent Clinical Social Worker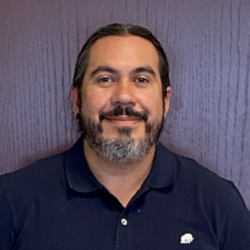 Salvador has more than 13 years of professional experience working in family preservation, crisis intervention/stabilization, behavioral intervention, groups, mental health case management, and individual therapy.  His areas of strength include system impacted youth and families, juvenile justice involved youth, and trauma impacted youth and families. Salvador utilizes culture as a focus point towards wellbeing, as well as, understanding the impact of macro level systems on individual wellbeing.  He has experience successfully developing, implementing, and training others in mentorship of adolescent youth.
Jacques Musavyimana
UNO Academic Advisor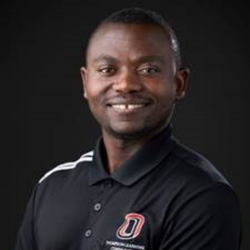 Jacques was born in Rwanda and came to the United States in 2009 as a refugee from Burundi. He was the first in his family to graduate college and went on to earn a master's degree in Criminology and Criminal Justice from the University of Nebraska Omaha. He currently works as an Academic Advisor at the UNO Academic & Career Development Center and as a Housing Advocate for Restoring Dignity. He also serves as the Assistant Director for Aboturibo Youth Chapter (AYC) Mentoring program, the Vice Chair for Omaha Refugee Task Force, and is the Choir Master at St. Benedict the Moor Church.
Renee Sans Souci
Cultural Consultant & Educator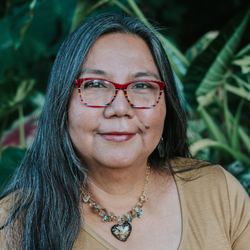 With a degree in education from the University of Nebraska-Lincoln and being an Umonhon woman and practitioner of traditional healing, Renee combines her life experiences with a learning process that helps learners to engage in their own cultural identities and languages. Renee has been a Teaching Artist with the Lied Center for Performing Arts since 2009. She has presented at numerous conferences and workshops on various topics related to #MMIW2GS, Native science, history of Indian education, Native languages, poetry, and sustainability. Last year, she was featured in the PBS American Masters Series, UNLADYLIKE 2020: Susan LaFlesche Picotte: The First American Indian Doctor. Renee was also a finalist for a 2020 Inspire Award, Celebrating Women Leaders in Lincoln, Nebraska.
Ashlei Spivey
Director of I Be Black Girl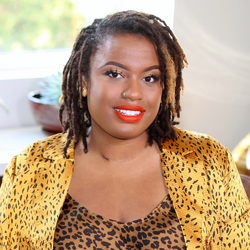 Ashlei is a bold leader that actively works to create just and equitable communities. In her work as an entrepreneur, philanthropist, and activist, she champions racial and gender equity in hopes to create sustainable system change. She is a graduate of Jackson State University where she studied communications and marketing, then attending the University of Texas at Arlington for her master's program in urban social planning. She has spent the last decade of her professional career working in spaces from organizational development to philanthropy.
Ashlei's work is centered in and guided by Black liberation. This is visible in her role as founder of I Be Black Girl (IBBG), a collective that supports Black women, femmes and girls to access and reach their full potential. IBBG has had outsized impact since inception in 2017, like investing over $200,000 in Black women, femmes and girls. In 2019, Ashlei was chosen as an ABFE Connecting Leaders Fellow, an inaugural 2020 Black Futures Lab Policy Fellow and proudly serves on the ACLU of Nebraska board of directors as the Board President and Equity Officer.
Nyajuok Tongyik
Author and Founder of ROSS Girls Breaking the Silence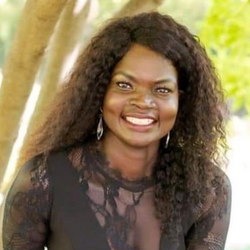 From the war-torn country of South Sudan, Africa, Nyajuok grew up between two refugee camps in Ethiopia, where she faced many cultural norms and practices that deprived her rights as a child by international law. Against all odds, Nyajuok overcame these obstacles, put herself through college, and commissioned in the United States Army as a Nurse. Nyajuok's dream is to impact lives, bring hope, healing, and transformation by empowering, inspiring, and motivating others to live their own life and dream big despite their environment.
After medically retiring from the Army through the Wounded Warrior Battalion (WTB) due to Post Traumatic Stress Disorder (PTSD), Nyajuok threw herself into serving South Sudanese women by launching ROSS Girls Break the Silence, LLC, a nonprofit organization that provides mentorship to women worldwide, connects individuals with mental health counselors in their communities, delivers community education using social media, and encourages others to speak up about their past traumas to promote healing.
As a single mother, Nyajuok worked tirelessly to become debt-free and build financial wealth, which quickly gained national and international attention. She was featured on Good Morning America, local ABC televisions, CNBC, The Epoch Times, Authority Magazine, and the Dave Ramsey Solution. Nyajuok's life story was released in May 2021, titled "I Am my Mother's Wildest Dream."