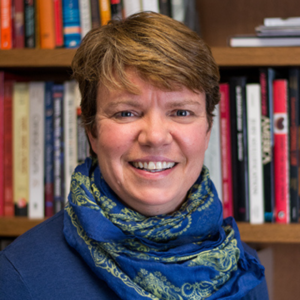 MENTOR Nebraska, a member organization elevating the mentoring movement across Nebraska, celebrated Nebraska's champions of mentoring at the 11th Annual Excellence in Mentoring Awards on April 22, 2021. This year's virtual event recognized individuals and organizations that have made tremendous contributions to young people and the mentoring field in Nebraska.
Dr. Anne Hobbs, Director of the Juvenile Justice Institute at the University of Nebraska Omaha, was named MENTOR Nebraska's Mentoring Advocate of the Year. This award recognizes a foundation, company, organization, or individual in Nebraska who has made a significant impact on young people by using their influence and public platform to support mentoring opportunities or mentoring initiatives.
"We are thrilled to honor Dr. Hobbs as Mentoring Advocate of the Year," said MENTOR Nebraska's Executive Director, Melissa Mayo. "The mentoring project she leads through the Juvenile Justice Institute connects young people with positive supports at a time in their lives when they need an extra person in their corner. System-impacted youth are underrepresented in our state's mentoring sector so we are appreciative of her advocacy and innovation to ensure they, too, have access to quality mentoring."
Dr. Hobbs established the Juvenile Reentry Mentoring Project at the University of Nebraska Omaha and has expanded this mentoring model in communities across Nebraska. This collaborative service-learning course pairs college students to youth re-entering the community after commitment to a detention facility. College students mentor these young people by helping them practice for job interviews, providing guidance on getting a driver's license or state ID, studying for the GED, and other important life skills. Under her leadership, more than 215 college students have been matched to a young person involved in the juvenile justice system.
"The Juvenile Reentry Mentoring Project has grown exponentially since it was developed in 2012 and would not have had this success without Dr. Hobbs' guidance and diligence," said Kim Trost, Project Coordinator at the Juvenile Justice Institute. "She has a thorough understanding of community issues and actively works to find solutions to those problems."
Dr. Hobbs is a licensed attorney and the Director of the Juvenile Justice Institute at the University of Nebraska Omaha. She currently serves on the Nebraska Juvenile Justice Association's Board and is Co-Chair of the Nebraska Juvenile Alternatives Racial & Ethnic Diversity Initiative. She serves on a number of leadership initiatives and through her research and active involvement, she is able to effect changes in the areas of juvenile justice reform, restorative practices, and child welfare.
Learn more about the Excellence in Mentoring Awards and recipients here.