MENTOR Nebraska's partner members are mentoring programs that have demonstrated their commitment to quality program practices. There are two levels of partnership - Partner Members and Friend Members.
Tier I Partner Member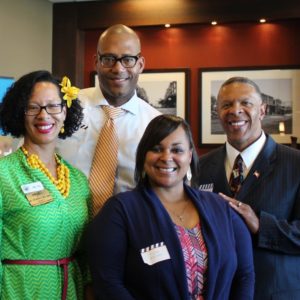 Partner Members have demonstrated they are utilizing research-based mentoring practices in their programs. They participate in statewide data collection efforts and complete the National Quality Mentoring System (NQMS). Partner Members receive the highest level of benefits including no-cost background checks for all mentors, no-cost data collection and case management system, no-cost access to statewide recruitment activities, and opportunities for funding support.
MENTOR Nebraska Partner Members
100 Black Men of Omaha - Young Men Mentoring Institute*
ACE Mentor Program
Big Brothers Big Sisters of Central Nebraska
Big Brothers Big Sisters Lincoln
Big Brothers Big Sisters of the Midlands*
Big Pals Little Pals of Greater Columbus
Community Connections Mentoring Program*
Girls Inc. of Omaha - Pathfinders*
Grand Island Public Schools - Success Mentors
Kids Can Community Center - Mentoring Program*
Ollie Webb Center, Inc. - Just Friends
Omaha Public Schools - Success Mentors
Partnership 4 Kids - Group Mentoring Program*
Release Inc. - Mentoring Program*
The Bike Union Mentoring Project*
Youth Emergency Services - Mentoring Program*
*Programs who have completed NQMS
Tier II Friend Member
Friend Members are youth-serving programs working with volunteers to foster positive adult/youth relationships. These members can participate in our no-cost training and technical assistance opportunities, and are also listed in the national database search-engine for mentoring programs.
MENTOR Nebraska Partner Benefits
Access to more potential mentors through MENTOR Nebraska's website & Mentoring Connector referrals (Tier I & Tier II member)
Participation and acknowledgement as a MENTOR Nebraska member during Annual Mentoring Recruitment Campaign and other recruitment/awareness opportunities (Tier I member)
Access to staff training opportunities to promote best practices that are subsidized by MENTOR Nebraska. Examples of subsidized trainings include Elements of Effective Practice for Mentoring, 4th Edition, SAFE: Prioritizing Youth Safety with Research Based Volunteer Screening Practices, and Trauma 101 & Recovery Training for Mentors & Mentoring Professionals (Tier I & Tier II members)
Eligible for support for mentor screening funding and MentorCore Funding (Tier I member)
Opportunity to assist in determining/selecting the content for Annual Mentoring Summit (Tier I & Tier II member)
No-cost National Mentoring Month promotional items (Tier I & Tier II member)
Access to additional resources only available to mentoring organizations connected to a MENTOR affiliate (Tier I member)
Networking and collaboration with similar programs to better leverage resources and improve efficiencies (Tier I member)
Wider community recognition as MENTOR Nebraska member (Tier I member)
Letters of support for grant applications (Tier I member)