CONNECTION IN A TIME OF
SOCIAL DISTANCING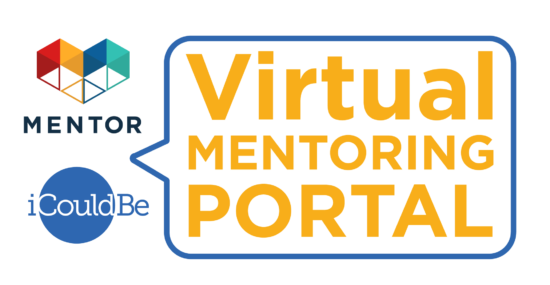 Virtual Mentoring Platform
To ensure physical distancing does not mean social disconnection, MENTOR and iCouldBe are launching the Virtual Mentoring Portal. The Virtual Mentoring Portal is a free, safe and monitored mentoring platform for mentors and mentees to continue their relationships while they may be separated due to COVID-19.
---
E-Mentoring
As mentoring programs begin to implement e-mentoring services, they can utilize best practices from the E-Mentoring Guide, a supplement to MENTOR's Elements of Effective Practice in Mentoring™.
---
Webinars
As a resource to continue to promote mentoring best practices throughout Nebraska, MENTOR Nebraska is offering several webinars at no cost to mentoring programs.
Upcoming Webinars:
Trauma & Recovery 101
Tuesday, June 16 | 9-11 a.m. | Webinar
Trauma-informed mentoring is an approach to help mentors and youth serving programs recognize and acknowledge the role trauma plays in young people's lives. This training covers how trauma affects young people, what trauma-informed care is, how to create safe environments for young people, and practices to avoid re-traumatizing. Participants will also identify self-care strategies to combat "compassion fatigue" and build assets to better serve young people and their mentors.
Audience: Mentors, mentoring professionals, and youth-serving professionals
Building Social & Emotional Skills through Mentoring
Wednesday, June 24 | 10-11:30 a.m. | Webinar
When it comes to social emotional development, relationships matter, especially during COVID-19. Mentoring is a powerful vehicle for social emotional learning (SEL) development and growth both in school and out-of-school time settings. This interactive webinar will provide a foundation of what SEL is (and is not), the importance of SEL development in young people, and how this healthy development increases their chances of future academic, career, and life success. Participants will walk away with activities and strategies for staff and mentors to use in their mentoring sessions.
Audience: Mentors, mentoring professionals, and youth-serving professionals
---
Technical Assistance
The National Mentoring Resource Center (NMRC) provides individualized no-cost technical assistance to organizations to support the implementation or improvement of specific youth mentoring practices. Programs can access up to 50 hours of no-cost consultation by expert staff. MENTOR Nebraska has provided technical assistance to dozens of mentoring programs across the state, and around the nation, to create and sustain high-quality mentoring activities.  Some recent examples of technical assistance provided to mentoring programs include:
Development and revision of mentoring training materials
Guidance and consultation on mentor recruitment plans and strategies
Analysis of mentor screening processes
Analysis of match support processes
In-depth evaluation planning
Apply for Technical Assistance
---
Additional Resources
Activities to do with Your Mentee
---
Mentoring Tips from MENTOR National
Be mindful. As the COVID-19 pandemic spreads, it may trigger trauma for young people impacted by the virus or by the news surrounding the pandemic. Let your mentee know that you see them and are there for them.
Be intentional about preserving continuity in the relationship.
Acknowledge what is going on and engage in a dialogue about the pandemic.
Understand and honor your emotions and the emotions of your mentee, including the range of reactions that may be expressed.
Commit to self-care. Know that it is okay to take a break from the news and discussions about the virus as needed to manage anxiety or other responses to the situation.
Be in it together. Let your mentee know that you are in this together and are here to help.
Follow the latest on COVID-19 on the CDC's website.
Follow the guidelines of your mentoring program, institution, or the guardians of your mentee around how to connect and communicate virtually with your mentee if in-person connections are suspended. Decide on clear boundaries and agreements about how you will connect with your mentee when meeting in-person and continue to follow the latest health guidelines and recommendations about where and how to gather.
Be communicative. Healthy and supportive relationships are crucial during this time.
If your mentoring program remains open and you feel comfortable, continue to show up for them in person – young people need our support now more than ever!
If in-person meetings must pause, follow the appropriate path:

If you are permitted/able to communicate virtually with your mentee:

Let your mentee know you need to temporarily pause seeing them in person but are still there for them virtually. Create a plan with your mentee about how you will stay in touch while continuing to follow the appropriate guidelines.

If you are not permitted/able to communicate virtually:

Work with the program to figure out a way to pass along information to let your mentee know that you care, value the relationship, and will need to temporarily pause in-person meetings. Health and safety are the primary focuses currently.
---
Additional Resources
Community Resources
---
Children's Respiratory Assessment Center - Omaha
Children's Hospital & Medical Center in Omaha has launched a dedicated Respiratory Assessment Center to address symptoms of respiratory illnesses, including COVID-19, in children and teens. The Respiratory Assessment Center is located on Children's main campus at 84th & Dodge Streets. Please enter off 84th Street at the Specialty Pediatric Center entrance, make an immediate right and park; the center's entrance is south of the main Specialty Pediatric Center entrance.
If your child has COVID-19 symptoms or you are concerned about a potential exposure, please call your primary care provider or Children's COVID-19 Help Line at 402-955-3200. If this is an urgent matter and your child needs immediate care on nights or weekends, please go directly to the Respiratory Assessment Center—not Children's Urgent Care. Children's Urgent Care will be sending patients with potentially infected respiratory symptoms to the center for care.
---
County Health Departments
---
Additional Resources